In response to the public health situation related to coronavirus (COVID-19), we are diligently monitoring updates from the Centers for Disease Control and Prevention (CDC), the World Health Organization (WHO) and medical professionals to ensure we are taking the necessary precautions to ensure our customer's health and safety is at the forefront of how we serve you.
Practicing Good Hygiene Etiquette
All of our Paul Davis professionals are following preventative safety measures:
Cleaning our hands often, 20 seconds with soap.
Using hand sanitizer when available.
Keeping a safe distance, at least 6 feet, from other people
Cleaning frequently touched surfaces.
What Can You Do To Help?
Let us know in advance of your appointment if you have any concerns or if you would like us to take special precautions.
Inform us if anyone in the household has health issues, like the flu or a cold.
Let us know if you would like us to limit the amount of information we leave behind and we can make adjustments or email information instead.
How We Can Help
Our trained and certified technicians are ready, willing and able to respond to biological hazards like COVID-19 to protect your employees and customers with application of disinfectants and pre-emptive cleaning techniques.
Techniques That Differentiate Us From Traditional Cleaning Methods:
ULV and Hydrostatic Fogging Application
Pre-emptive cleaning approach that provides coverage for walls, floors, and other horizontal surfaces
Fogging with Horizontal Surface Wiping
All the benefits of fogging with the additional coverage for high touch areas like desks, computers, door and desk handles, and telephone handsets.
Fogging with Full Wiping
These are the industry accepted steps when a confirmed case of COVID-19 has been found. This is a full cleaning and application of disinfectants to your facility
We are ready and equipped to clean:
Office Buildings
Schools
Restaurants
Fire Stations
Police Stations
Airports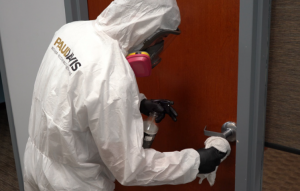 If you would like more information on the latest news to help prevent the spread of COVID-19 in your everyday practices, please visit CDC.gov or Coronavirus.gov for daily updates. Thank you for your continued confidence and trust in Paul Davis. Your comfort and safety are extremely important to us and we look forward to providing the best, and most accommodating, customer experience possible.